Advanced Search Interface is an optional extension. It can be deployed to add an advanced and more comprehensive search interface so that users and searchers can easily carry out complex searches without any knowledge of boolean connectors and syntaxes (+, -, "", AND, NOT, PHRASE etc.).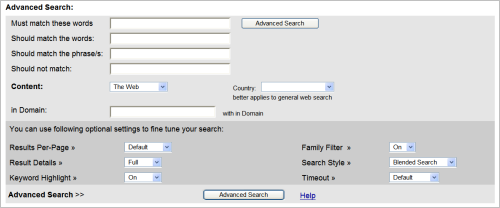 In real life, most users execute a search request using a set of search terms (keywords); however, there are situations when a complex search request may be necessary in order to locate some specific types of results otherwise difficult to locate. This extension is an important tool for researchers, knowledge workers who often need to dig deeper.
Like all our products and solutions, the advanced search extension is fully customizable and configurable (including the operational elements, input options, layout, design and appearance) to suit the purpose of the intended users and searchers. Advanced Search is fully interoperable with our front-end solutions and operates like an integral part.
For further details and to find out how our solutions can help achieve your aim in a cost effective way
contact
our sales team.