Preference Setting (Search Customization) interface is an optional extension. It can be deployed to add an interface where users, visitors can customize the overall behavior and search settings to suit their preferences.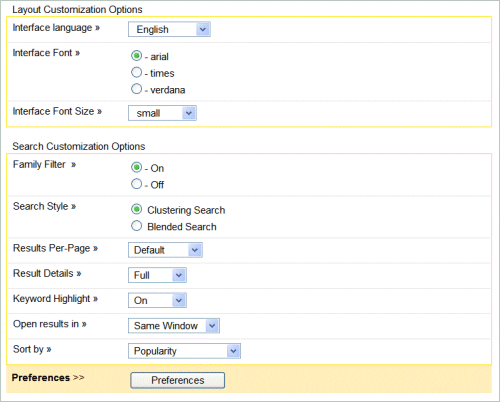 In real life, often users want to change the default search behavior, display options and a range of other settings to match their search habit, visual requirements and taste. This optional provides a quick and easy way to achive this objective.
Like all our products and solutions, the preference interface is fully customizable and configurable (including the operational elements, input options, layout, design and appearance) to suit the purpose of the intended users and searchers. It is fully interoperable with our front-end solutions and operates like an integral part.
For further details and to find out how our solutions can help achieve your aim in a cost effective way
contact
our sales team.